Ms Raeesah Khan
MP for Sengkang GRC
Question

To ask the Minister for Social and Family Development (a) from 2017 to 2019, how many applications for ComCare Interim Assistance, Short-to-Medium Term Assistance and Long-Term Assistance are received in which the applicant has exceeded the income criteria; (b) what factors are considered when the applicant slightly exceeds the income criteria; and (c) whether the Ministry is planning a review of this income cap over the next 12 months.
Answer
1 ComCare provides assistance to low-income households for their basic living expenses. ComCare Long-Term Assistance (LTA) is provided to those who are permanently unable to work due to old age, illness or disability, and have little or no means of income and family support. Applicants who are unable to work and receiving some income such as allowance from their children or CPF-related payouts may also qualify if their income is insufficient for their basic needs. ComCare Short-to Medium Term Assistance (SMTA) and Interim Assistance (IA) have income eligibility criteria of a monthly household income of $1,900 and below or per capita household income of $650 and below. The number of applications for ComCare SMTA and IA where the applicant has exceeded the income eligibility criterion is summarised in Table 1.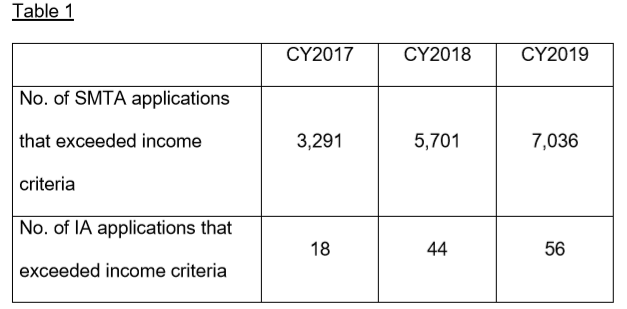 2 The income criteria for ComCare schemes are not hard thresholds. Each household that applies for ComCare assistance is considered on a case-by-case basis, to ensure that they receive the assistance that they need for their basic living expenses. For applicants who exceed the income criteria, we consider their respective circumstances and exercise some flexibility where warranted to provide ComCare or connect them with other relevant assistance. For example, households with higher essential expenses such as housing rental or children's special education expenses may be provided ComCare even if their household income exceeds the criteria. The Social Service Office may also connect them with other assistance schemes and community organisations that can provide additional assistance or in-kind support to help them cover their expenses and address their needs.

3 MSF reviews the ComCare eligibility criteria every two to three years to ensure that ComCare objectives are being met. The last review was conducted in 2019. We do not have plans to review the income criteria in the next 12 months.