The MSF Volunteer and Partner Awards (MVPA) recognises and honours the commitment and dedication of MSF's volunteers and partners, who have served in various areas of the Ministry.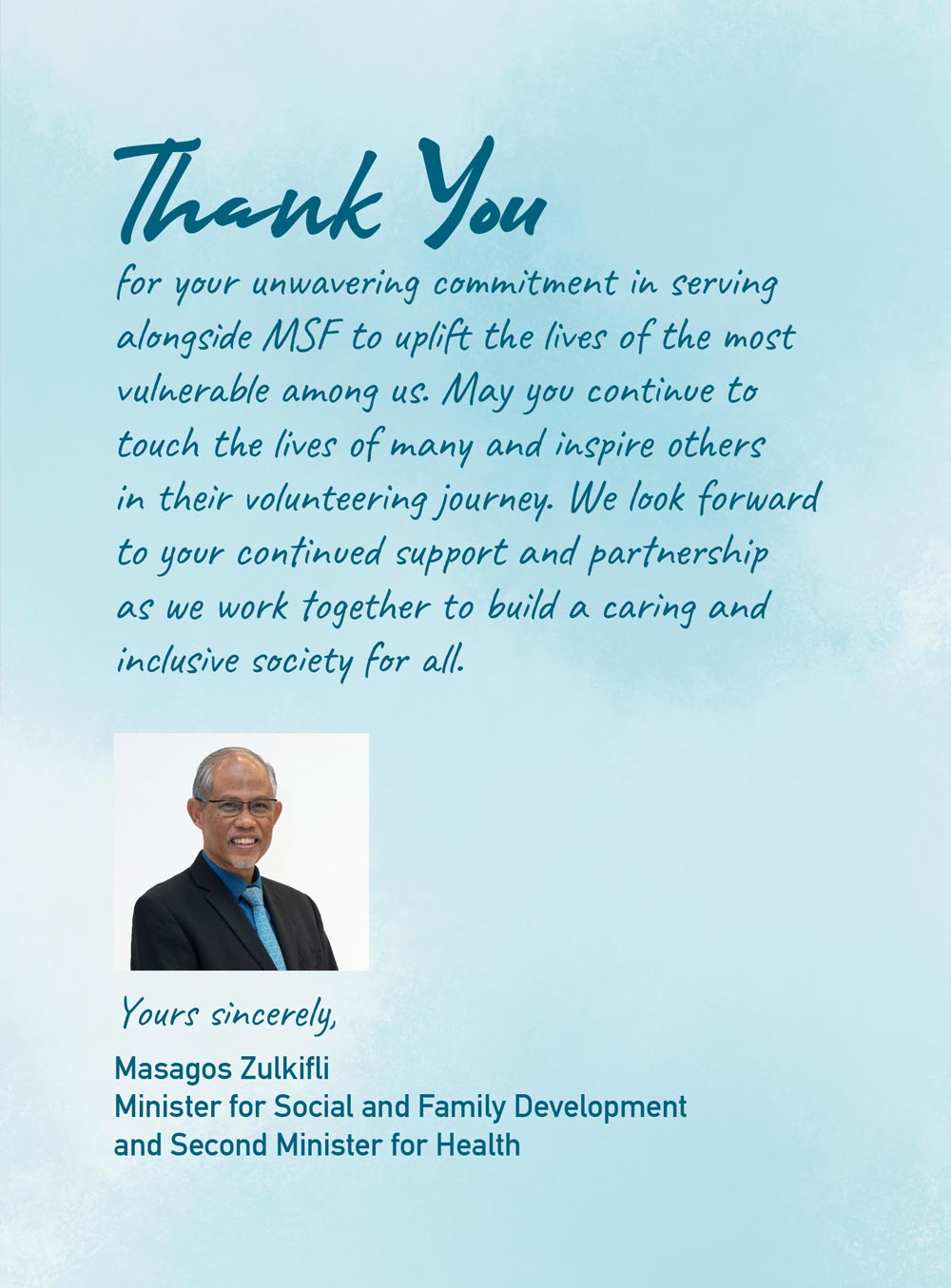 Read Minister Masagos Zulkifli's speech
Outstanding Lifetime Volunteer Award
For only the second time in MVPA's 12-year history, two individuals (instead of one) were presented with the Outstanding Lifetime Volunteer Award – the Awards' highest accolade. This Award recognises outstanding individuals who have made significant contributions over a span of at least 30 years. Dr Anamah Tan and Mr Lim Hock Heng were the recipients of this year's distinguished Outstanding Lifetime Volunteer Award.
Dr Anamah Tan has had more than 40 years of experience in advancing equality between men and women in Singapore, Asia and internationally. She was a pioneer of the women's development movement in Asia and a determined advocate for gender issues, particularly domestic violence and poverty eradication. With her expertise in family law, Dr Tan's efforts in raising the status of women included having successfully lobbied for changes in the socio-political and legal frameworks in Singapore. She was one of the founding members of the Singapore Council of Women's Organisations (SCWO).
Mr Lim Hock Heng has been a volunteer with MSF's Probation and Community Rehabilitation Service (PCRS) since 1975. Through his 45 years of service, Mr Lim has become an integral part of the Operations Night Watch (ONW) team since it started in 1997. To date, he has clocked over 6,000 checks island-wide to support MSF's Probation Officers in ensuring that probationers comply with their Court-ordered time restrictions. He also reaches out to befriend, guide and journey with our youths and their families. His efforts in building the capabilities of fellow volunteers, including coaching and guiding new volunteers, exemplifies his commitment to the service. Today, Mr Lim continues to volunteer as the Deputy ONW Manager – a responsibility he has held since 2001.
Tribute to MSF's Volunteers and Partners
COVID-19 has impacted us in unprecedented ways. Find out how MSF's volunteers and partners have come together in this pandemic to make a difference.
MSF Outstanding Lifetime Volunteer Award
The MSF Outstanding Lifetime Volunteer Award recognises outstanding volunteers who have contributed to the causes of MSF for at least 30 years.
Award Winners
Dr Anamah Tan
Mr Lim Hock Heng
MSF Outstanding Volunteer Award
The MSF Outstanding Volunteer Award recognises individuals or groups of volunteers who have contributed significantly to various groups in the community served by MSF. The award winners are distinguished by their significant contributions in terms of time and effort spent.
Award Winners
Ms Chia Yong Yong
Mdm Choo Kheng Huay and Mr Lim Yook Gweek
Mdm Jalilah Binti Samsudin and Mr Kairi Bin Jais
Dr June Goh
Dr Kenneth Poon
Mrs Laura Hwang
Mr Lim Cheng Teck
Ms Long Chey May

Mdm Nurjahan Binte Gulam and Mr Mustafa Bin Kachong
Mr Rajaram Ramiah
Mr Robert Chew
Mdm Robiah Bte Awang and Mr Abdul Talib Bin Ahmad
Mdm Samala Devi D/O Veranan Suppiah and Mr Amarthalingam S/O M Appadurai
Mrs Wee Wan Joo
Mr Yeap Poh Leong Andre






Friends of MSF Award
The Friends of MSF Award is presented to individuals, volunteers or organisations who have made significant contributions to committees or projects under the purview of MSF for at least two years. This year, our winners contributed to a variety of MSF initiatives including ECDA's KidSTART, Families for Life, Taskforce on Family Violence, the National Committee on Prevention, Rehabilitation and Recidivism, and the NCSS Board.
Award Winners
Dr Ann Tan
Mr Arthur Ling
Dr Balram Chowbay
Ms Ch'ng Ying Chia
Dr Cheong Lai Leng
Ms Chew Seow Chien
Ms Chong Hui Min Cheryl
Mr Chong Kwek Bin
Dr Chong Shang Chee
Mr Choo Choon Kiang Adrian
Mr Christopher Pragasam
Mr Clifton Phua Chun Wai
Ms Elizabeth Pang
Ms Eng Sze Chieh Sharon
Mr Gary Lau Hwei
Mr Gerard Lee How Cheng
Ms Hannah Ferlyn Goh Xue Kim
Ms Irene Boey
Ms Jacelyn Lim
Ms Janet Ang
Ms Joanna Portilla
Ms Junie Foo

Ms K Thanaletchimi
Mr Kelvin Ang
Ms Low Seow Ling
Mr Mohamed Ismail Bin Abdul Hakim
Pertapis Senior Citizens Fellowship Home
Dr Peter Wong Choong Yi
Dr Radiah Salim
Mr Seow Choke Meng
Mr Seow Soo Keng Eugene
A/P (Dr) Sharifah Mariam Aljunied
Dr Shefaly Shorey
Ms Sim Siew Moon
Mr Sudeepto Datta
Sunshine Welfare Action Mission Home
Ms Susan Hwee
Mr Tan Joo Chiang Mark and Mrs Vivien Tan
Ms Tan Khiaw Ngoh
Mr Tang Weng Yew John
Mr Tay Yong Seng
Mr Thomas Ang
Dr Victor Tong
Ms Wong Kok Yee
MSF Community Cares Award
The MSF Community Cares Awards was introduced in 2019 to recognise and appreciate organisations and individuals who passionately drive social change, strive to do good for society, and in so doing, inspire those around them.
Award Winners
Aldersgate Methodist Church
Ang Mo Kio Methodist Church
AMKFSC Community Services Limited
Assyakirin Mosque
Bartley Christian Church
Bedok Methodist Church
Bethel Presbyterian Church
Bethesda (Katong) Church
Boscombe Life Church
Buddha Tooth Relic Temple and Museum
Calvary Assembly of God
Caritas Singapore
Change Community Services
Charis Methodist Church
Covenant Evangelical Free Church (Bukit Panjang and Woodlands)
Covenant Presbyterian Church
Emmanuel Evangelical Free Church
Faith Methodist Church
Food Bank Singapore
Food from the Heart
Mr Foong Tak Wai Edward
Futuready Asia & Innotrek
Good News Community Services
Gospel Light Church
Grab Singapore
Grace Assembly of God (Bukit Batok)
Heartwarmers
Mr Ho Poh Oon Clarence
Home for Good – SG
Homeless Hearts of Singapore
Hope Centre (Singapore)
International Baptist Church of Singapore
National Institute of Early Childhood Development (NIEC) and ITE College Central
Dr Jasbir Singh
Jurong Christian Church
Kassim Mosque

Kay Poh Road Baptist Church
Kembangan – Chai Chee Social Team
Mr Koh Kok Weng
Kreta Ayer Family Services
Law Society Pro Bono Services
Little Lives Inc Pte Ltd
Mdm Phang Koei Hiong
Montfort Care
Moulmein Church of Christ
Mummy Yummy
Pasir Panjang Hill Church
Prinsep Street Presbyterian Church
Queenstown Baptist Church
Mr Raja Mohan S/O Murugesu Kanagaratnam
ReadAble
Ren Ci Hospital
Sakae Holdings Ltd
Singapore Anglican Community Services - Diocese of Singapore
Singapore Power Group
SMRT Corporation Limited
St James' Church
Mr Tan Yi Ren Allen
Tao One Ltd
Mr Teh Chin Huak Zenon
Ms Teo Ai Ling
The Bible Church and Mt Carmel BP Church
The Bible House
The Salvation Army
Toa Payoh Methodist Church
Trinity Methodist Church
Tung Ling Community Services
Victory Family Centre
Woodlands Evangelical Free Church
Yio Chu Kang Chapel and Bless Community Services
Zion Bishan BP Church
Long Service Award
The MSF Long Service Award recognises individuals or organisations who have volunteered directly with MSF.
Award Winners (45 years)
Mdm Thiravingadam Sembugavalie
Award Winners (40 years)
Award Winners (35 years)
Brother Collin Wee
Mr Ho Chin Chiong Jimmy
Mr Lee Tiong Peng
Mr Soundarajan K Chelliah
Ms Tan Liew Wheng
Award Winners (30 years)
Mr Chang Meng Teng
Mr Heng Wui Meng Winston
Mr Mathalaimony Nathan
Award Winners (25 years)
Prof Chan Wing Cheong
Mr Cheong Meng Soon
Mr Cheong Yuen Chee
Mr Choo Tuck Meng William
Dr Ivor Gunaseelan Thevathasan
Mr Lam Chow Loon

Prof Lee Chang Leng Brian
Mr Lim Hong Xiang
Mr Ong Wee Heng
Ms Rachpal Kaur Tulsi
Mdm Rusidah Bte Samad
Ms Sjuffriani Bte Abdul Khalid
Award Winners (20 years)
Mr Ang Swee Nam
Mrs Annie Giri
Ms Chua Hui Hiang Irene
Ms Fatimah Binte Ismail
Mdm Jennie Yeo Kha Keaw
Mr Lim How Kim
LTC (NS) Lim Huan Chiang
Mr Lim Tow Koon
Mr Low Ju Yau Desmond

Mr Paviter Singh
Dr Phua Tan Tee
Ms Tan Alicia
Mr Teo Chin Yeow Noel
Mr V. Nandagopal
Major (RET'D) Thanaseela S/O Maruthamuthu Krishnamoorthi
Mr Toh Kai Kok and Mdm Cheong Shok Mui
Mr Yam Meng Keng
Award Winners (15 years)
Mr Abdul Hamid Bin Abdul Rahim and Mdm Bibi Rabiah Binti Sheikh Muhammad Jailani
Mr Adnan Bin Yahya and Mdm Siti Radziah Binte Musa
Late Mr Ahmad Bin Awang and Mdm Suaina Binte Hodri
Mr Amran Bin Eunos and Mdm Maimunah Bte Abdul Rahman
Ms Bahrina Bahrin
Mr Chai Chon Fah
Ms Chan Mui Mui Nancy
Mr Chen Wai Chong Guthrie
Mr Chua Kim Hwa and Mdm Ong Soh Kim
Mr Chua Thiam Chwee
Mrs Eileen Siew Keok Magnus
Ms Faridah Eryani Bte Pairin
Mr Fernandez Silvadima Antony and Mdm Fernandez Christina Anthony
Dr Francis Heng Hua Mong
Mr Henry Phua and Mdm Mona Phua-Lim Beng Guek
Mr K. R. Letchu Manan
Mr K. Shahib Maricar
Mr Kim Andrew Aitken and Mdm Norliza Binte Selamat

Mr Lau Ricky
Mr Lee Kok Chiong and Mdm Lim Chui Hong Grace
Mr Lim Hong Kee and Mdm Lim Poo Yong
Mr Mohamad Amin Bin Bakar and Mdm Rosmah Binte Awang
Mr Mohamed Isa Bin Dabin and Mdm Zaiton Binte Hamzah
Mr Muhammad Ashraf Koh Bin Abdullah and Mdm Asiah Binte Mohamed Salleh
Mr Prapoon S/O Tawin and Mdm Wardah Binte Hat
Mr Raja Mohan S/O M Kanagaratnam
Mr Rajev S/O Valayutham and Mdm Lourdes Thomas Audrey
Mrs Reni Mary Abraham
Mrs Rogini Van Rooijen
Mr Roslan Bin Salim and Mdm Nooraini Binte Mohd Hashim
Mr Rosman Bin Kosnin and Mdm Monalisa Bte Hamzahan
Mr Tan Ah Pek
Mr Tay Lee Meng and Mdm Chan Hiang Geok
Mr Teh Chin Huak Zenon
Mr Xiao Yu Guang
Award Winners (10 years)
Mr Ahmad Nizam Abbas
Ms Au Hui Ming
Dr Chan Poh Chong
Mr Chia Ngiang Hong
Mrs Chia Swee Tin
Mr Dick Lum Chee Seng
Mr Elendrus Bin Osman
Mr Eric Woon Lee Han
Ms Grace Ng Lai See
Ms Gurmeet Kaur d/o Amar Singh
Ms Ho Seih Hwa
Ms Ho Yuen Wah Janice
Mr Jaafar Bin Omar and Mdm Norhana Binte Ismail
Mr James Kwok Hoi Thin
Ms Jenny Goh Yen Ni
Mr Jin Keng Sun and Mdm Ku Kim Luan
Ms June Khor Seo Koon
Mdm Kalyani Sinnakkalai Ramasamy
Mr Kang Bing Xiang Jasper
Dr Kao Pao Tang
Dr Kumudhini Rajasegaran
Mr Lee Siew Chuan, Leonard
Ms Lee Wei Ling
Mr Leong Sing Wee
Mr Letchumanan Jayaram
Ms Liew Kit Har
Mr Lim Chin Heng Thomas

Mr Lim Tai Sun
A/Prof Loh Tsee Foong
Ms Loh Wan Fei
Ms Magdalene Yang Kai Yun
Mr Maizan Bin Hamzah and Mdm Hayati Binte Hussin
Mr Muhammad Bin Ismail
Mr Neo Dongchun Johnny
Dr Ng Chee Keong Vincent
Dr Ng Wei-Cher Glen
Mr Nor Asruddin Bin Ahmad and Mdm Junaidah Bte Sulaiman
Mr Selvakumar Simon
Mr Sin Kin Ping and Mdm Toh Siew Cheng Gracy
Mr Soh Chee Keong
Mr Sulaiman Ithnin and Mdm Noraini Binti Ali
Mr Tam Chee Wah Mike
Mdm Tan Guay Neo Florence
Miss Tan Yulin Clara Genevieve
Mr Teow Ming Yoke and Mdm Rapiah Bt Hitam
Mr Wan Chong Hock
Mr Wang Kim Meng
Mr Wee Jit Sun
Mr Yakub Bin Hitam and Mdm Suzaiha Bte Samat
Mdm Yamilah Binti Md Jidi
Mr Yap Giau Peck
Ms Yeo Seok Tin
Ms Yuen Ying Kheng, Yvonne
Award Winners (5 years)
Mr Abdul Aziz Bin Mohamed Said and Mdm Siti Juminah Bte Sarip
Dr Adrian Loh Seng Wei
Mr Ahmad Basher Bin Nahood Pichay and Mdm Nur'ain Binte Aman
Mr Ahmadkalil Bin Mohamad and Mdm Salbiah Bte Hat
Mr Alex Woo Siew Seng
Mr Amir Bin Mohd Hamzah and Mdm Marianah Binti Mosman
Mr Andrew da Roza
Mr Ang Tung Yeow and Mdm Ang Lay Mui Vanessa
Mr Anjan Kumar Ghosh
Mr A Roslan Bin Buang and Mdm Noor Faiza Binte Abdol Karim
Mr Bhagat Singh and Mdm Baljindar Kaur d/o Bersaka Singh
Professor Brenda Yeoh
Mr Cham Mon Hong
Mr Chan Chee Yong
Mr Chan Siew Key Steven
Ms Charlotte Stephen
Ms Chew Seow Chien
Mr Chiam Yong Khiang Christopher
Ms Chia Yong Yong
Dr Chong Yoke Sin
Mr Chua Poh Chuan David
Ms Davina Jay
Mr Donovan Wu Weiming and Mdm Cheong Wei Harn Fiona
Mr Foo Shih Shun
Mr Hoo Kok Choon Joseph and Mdm Ooi Huey Jiun
Mr Jayabalan and Mrs Saroja d/o Munisamy
Dr Jeremy Koh Siang Hui
Mr Joshua M Kumar and Mdm Maria Faustina Joshua
Ms Joy Ong Shu Xin
Mr Julian Wan Weng Kit
Mr Keith Chua
Ms Kiranjeet Kaur
Mr Khairul Bin Zakaria and Mdm Halimaton Binte Abdullah
Mr Koh Mui Cheow and Mdm Leong Sook Gee Jenny
Mr Koh Khoon Keong and Mdm Rosemary Yeo Mei Li
Mr V Kripesh
Mr Kua Soon Khe
Mr Lam Kuet Keng Steven John

Adj Assoc Prof Lee Cheng
Mr Liau Tar Wee David and Mdm Ang Bee Leng
Mr Ling Kin Huat
Mr Lim Boon Hong and Mdm Lee Sok Kien
Mr Low Chye Seng and Mdm How Eng Siew
Ms Loh Ai Pheng Adalene
Mr Manjit Singh Bobby and Mdm Jaswant Kaur
Mr Matthe Vijverberg and Ms Marquet Nathalie Annick Claude
Mr Mike Siek An-Chai
Mr Mohamed Fauzi Bin Ali and Mdm Suharyati Abdullah
Mr Mohammad Najib Bin Jalil and Mdm Melissa Mellini Ab Kadir
Mr Ng Ke Wen Timmy and Ms Tay Hui Mei Cindy
Mr Norman Kee Kiak Nam
Mr N. Tamilselvan and Mdm K Nirmala Devi
Mr Nuriman Bin Mohamed Shariff and Mdm Mahani Binte Abdullah
Mr Ong Cheng Bok and Mdm Khor Joo Sim
Mdm Or Lee Hwa
Mr Paiman Bin Kahat and Mdm Waridah Binti Saudana
Dr Peter Wong Choong Yi
Mr Raihan Tok and Mdm Mariati Binte Mohamed Shariff
Mr Razali Bin Ali and Mdm Bariah Binti Rokibun
Mr Richard Pang Hon Chow
Mr Ros Firdaus Bin Roszali and Mdm Nur Shahida Binte Mohd Rashid
Mr Seow Lee Seng Esmond
Ms Sedrlyn Yap Ye Ling
Dr Shahul Hameed
Mr Suhaimi Bin Salleh
Mr Tan Chong Hai George
Ms Tay Ching Yee
Mr Toh Tuck Weng Adrian
Mr Too Teh Hsin and Mdm Joyce Too-Yip Yeuk Sze
Mr Umar Faruq Bin Mohamad and Mdm Siti Aisha Binte Ismail
Dr Wong Meng Ee
Mr Yang Tse Pin
Ms Yeo Rui Feng Faith
Mr Yeo Say Kiong
Mr Zee Yoong Kang
We are grateful for the support of many who have contributed their time and talent to organise this year's MSF Volunteer and Partner Awards.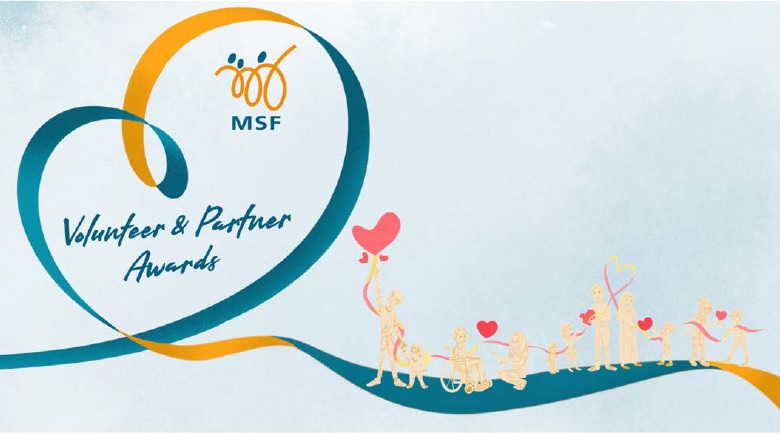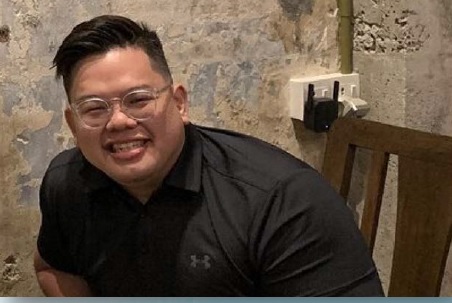 This year's key visual features hearts held by individuals from across all walks of life, symbolising care and support for one another. Designed by Mr Isaac Liang, a local illustrator on board the i'mable Collective, his design features in our event backdrop and tote bags presented to all award recipients. Isaac was born deaf and discovered his love for drawing at the age of four. Isaac has illustrated for the Singapore Art Museum, National Heritage Board, MediaCorp, National Council of Social Service and DBS, to name a few.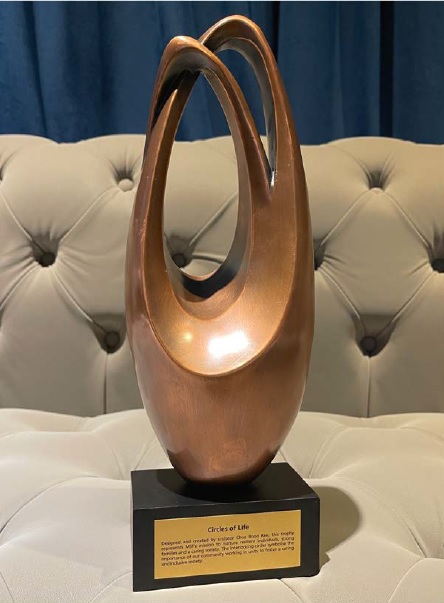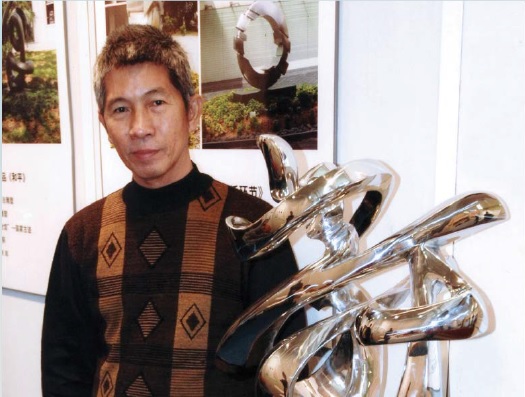 This year's trophy is a replica of the "Circles of Life" sculpture, designed by Singapore's very own award-winning sculptor, Mr Chua Boon Kee. The interlocking circles symbolise the importance of our community working together to foster a caring and inclusive society.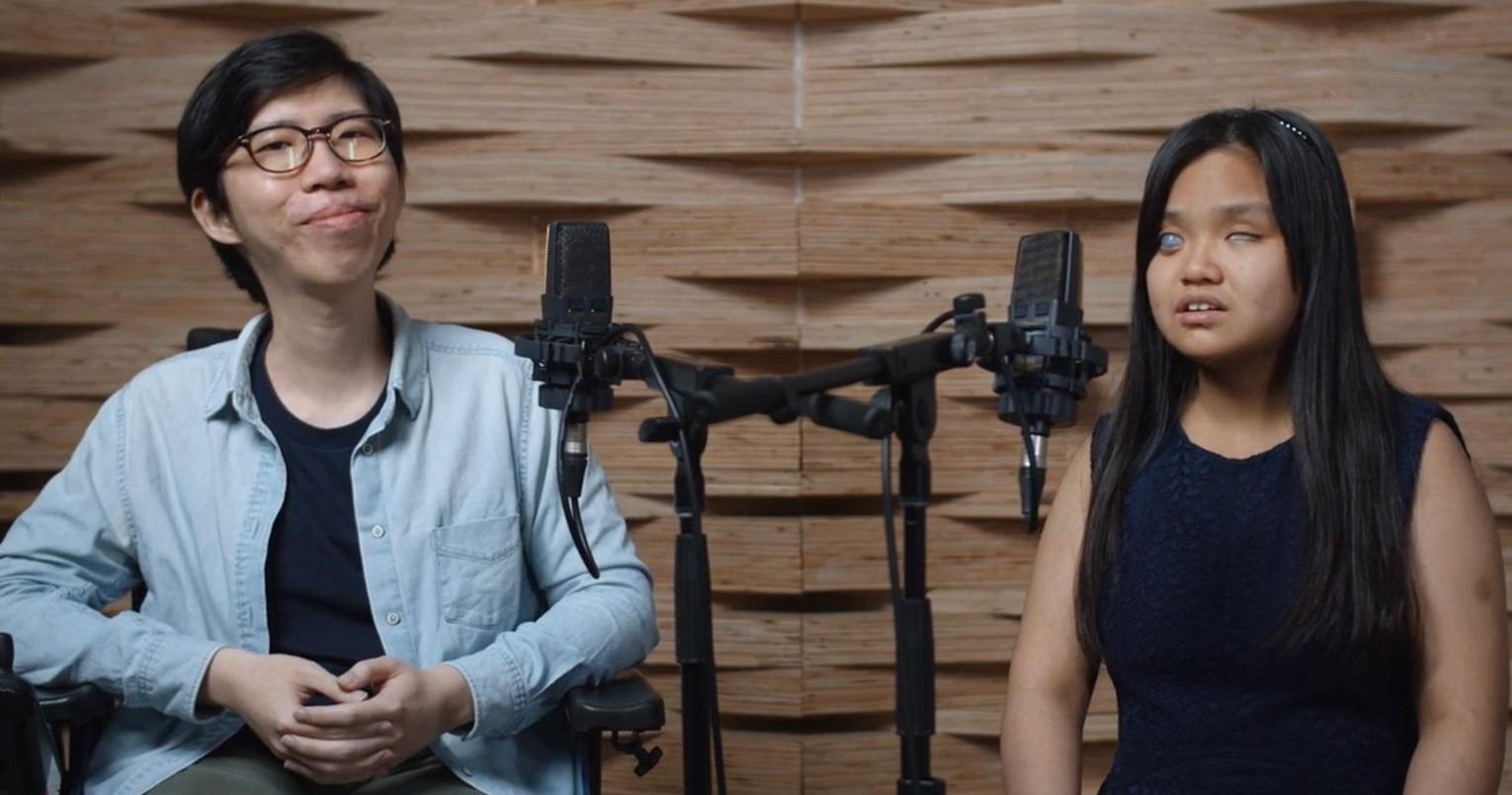 A special duet was performed by singer-songwriter Ms Adelyn Koh, who is visually impaired, and seasoned performer Mr Yu Xiang Kelvin, who has muscular dystrophy. Adelynproduced her first original album at the age of 10, and Kelvin started writing lyrics and performing song covers on YouTube in 2008. Their rendition of Josh Groban's 'Thankful' during the awards ceremony pays tribute to our many volunteers and partners who served alongside MSF during the COVID-19 pandemic.