Ms He Ting Ru
MP for Sengkang GRC
Question
To ask the Minister for Social and Family Development since the start of the circuit breaker period, how many protection orders and domestic exclusion orders under the Women's Charter have been granted each month.
Answer
1 Persons experiencing family violence may apply to the Family Justice Courts (FJC) for a personal protection order (PPO) and/or a domestic exclusion order (DEO) under the Women's Charter.
2 The monthly number of orders granted by the FJC is in the table below. On average, FJC granted approximately 75 PPOs and 7 DEOs per month since the start of the Circuit Breaker period. The monthly average from April to August is similar to the monthly average for the first three months of 2020.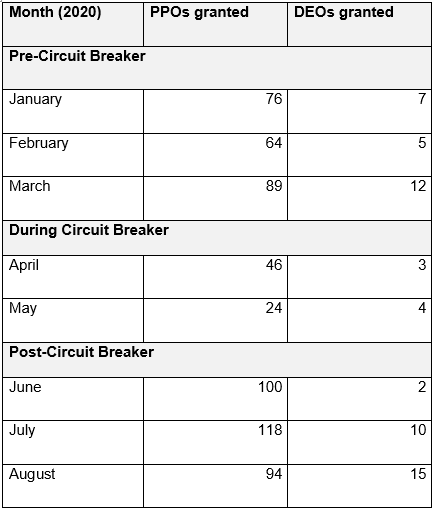 3 Numbers were lower during the Circuit Breaker, possibly due to the misperception that Court services were unavailable. MSF and partners continued to keep a close watch on family violence and ensured that services remained available, including during the Circuit Breaker period.