Senior Parliamentary Secretary (SPS) for the Ministry of Social and Family Development, Associate Professor Muhammad Faishal Ibrahim, led the Singapore delegation to the High-Level Policy Dialogue (HLPD) of the Asia-Pacific Economic Cooperation (APEC) Women and the Economy Forum (WEF) in Port Moresby, Papua New Guinea, on 7 September 2018. The APEC WEF is an annual meeting of leaders from the public, private, non-government and academic sectors to discuss and exchange views on empowerment of women across APEC economies. This year, the APEC WEF was held from 3-8 September.
2 The HLPD is chaired by Hon. Soroi Eoe, Minister for Youth, Community Development and Religion, Papua New Guinea. At the HLPD, SPS Faishal shared Singapore's experience in enhancing support for women's leadership and our partnership efforts.
3 In his sharing, SPS Faishal reiterated Singapore's commitment to the advancement of all women and girls. Singapore aims to provide an enabling environment that supports our people in maximising their potential and advancing into leadership roles. He highlighted the importance of providing equal opportunities and access to resources, and eliminating barriers in the workplace, community, and at home. In particular, one of our priorities is to improve women's representation on corporate boards through the Diversity Action Committee (DAC).
4 In sharing Singapore's partnership efforts, SPS Faishal elaborated on Singapore's coordinated whole-of-government approach in empowering women through the Inter-Ministry Committee on CEDAW. He also stressed the importance of continuous, concerted efforts from the people, private, and public sectors in enhancing the status of women, for example, through the DAC and the Tripartite Committee on Work-Life Strategy.
5 Hosted by the Government of Papua New Guinea, the APEC WEF's theme is "Seizing Opportunities for Women and Girls to Advance in the Digital Age". There are four cascading priorities (i) Empowering Women to participate in the Digital Economy; (ii) Gender inclusion and empowerment A catalyst for Growth in all sectors; (iii) Leadership; (iv) Forging Partnerships, Narrowing the Gap.
​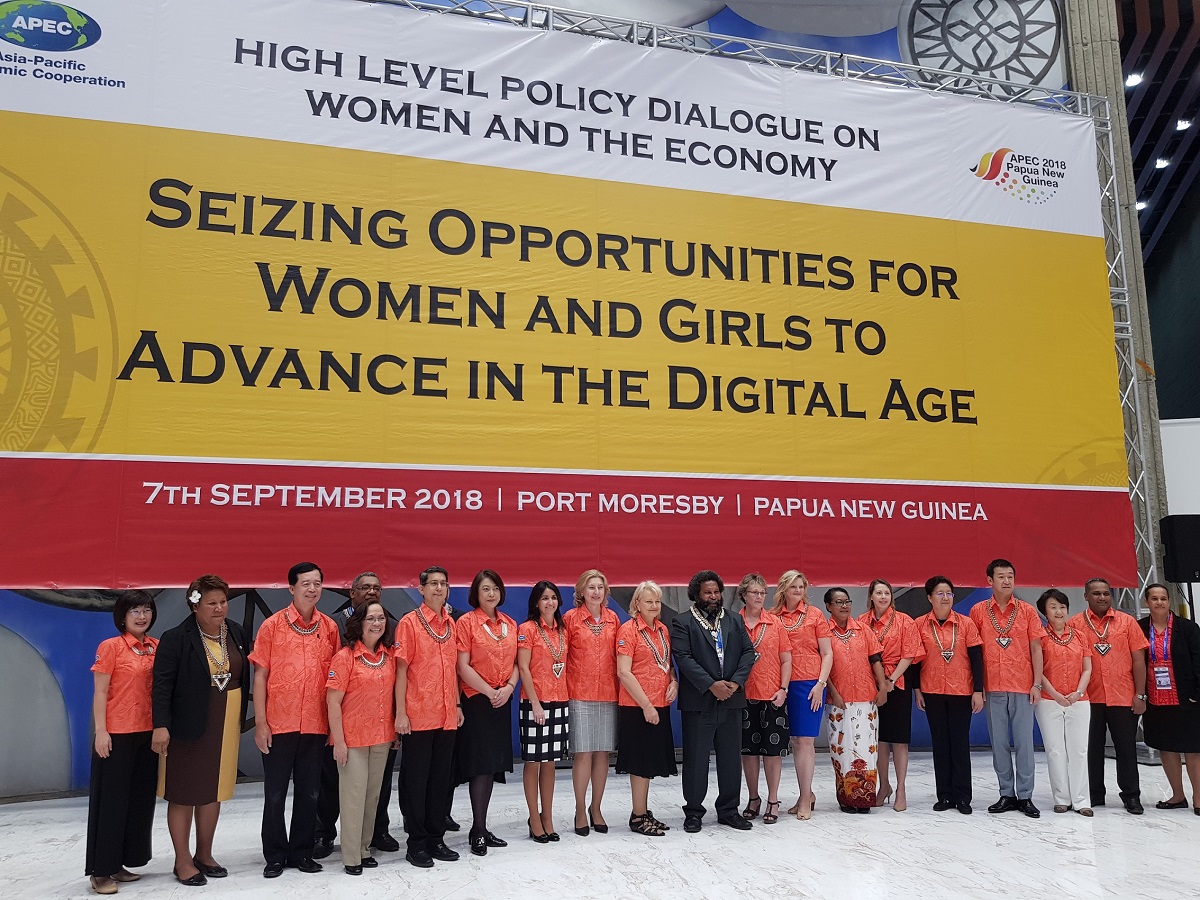 Heads of Delegation (from left to right) Irene Sim (APEC Secretariat), Anna Solomon (Papua New Guinea), Pol. Lt. Gen. Piya Sorntrakul (Thailand), Zenaida Cuison Maglaya (Philippines), Muhammad Faishal Ibrahim (Singapore), Ting-I Chan (Chinese Taipei), Carolina Cuevas (Chile), Natalia Strigunova (Russia), Sharman Stone (Australia), Soroi Eoe (Chair of the High-Level Policy Dialogue, Papua New Guinea), Debbie Power (New Zealand), Michelle Bekkering (United States), Yohana Susana Yembise (Indonesia), Logann McNamara (Canada), Zhao Hongju (China), Ryosei Tanaka (Japan), Fumiko Hayashi (Japan), Sivaneswaran Ramachandran (Malaysia), Jeanne Sliviak (Papua New Guinea)