1. In tandem with the introduction of the Gambling Control Bill and the Gambling Regulatory Authority of Singapore Bill in Parliament today, the Ministry for Social and Family Development (MSF) will strengthen social safeguards for gambling. Legislative and regulatory changes will be made to
a. Formalise the exclusion regime administered by the National Council on Problem Gambling (NCPG), for fruit machine rooms and online gambling with Singapore Pools;

b. Extend Exclusion by Law to more financially vulnerable individuals who are on Government social assistance and subsidy schemes; and

c. Impose mandatory Responsible Gambling Requirements on fruit machine room operators
2. Mr Masagos Zulkifli, Minister for Social and Family Development and Second Minister for Health said "Problem gambling can affect anyone. Often, its impact goes beyond the individual, affecting their families and loved ones. The government reviews our social safeguards regularly to ensure that the harm of problem gambling is mitigated. We strongly support the legislative enhancements made by MHA, which will further minimise the harm of gambling to vulnerable groups, such as minors. MSF will also strengthen social safeguards to protect those who are financially vulnerable and receiving financial support. We will continue to partner social service agencies that provide gambling rehabilitation programmes, and work closely with the NCPG to provide upstream preventive education."
Exclusion regime for fruit machine rooms and Singapore Pools online gambling
3. Currently, under the permit/exemption conditions for operating gambling services, private clubs are already required to prevent persons who are under Exclusion Orders from gambling in their fruit machine rooms. Singapore Pools is required to prevent such individuals from gambling on its online gambling platforms. With the amendments introduced in the Gambling Control Bill, the NCPG will have the powers to impose Exclusion Orders on individuals who enter fruit machine rooms or gamble on Singapore Pools' online gambling platform.
4. Going forward, family members who experience negative effects and harm caused by fruit machine rooms or online gambling with Singapore Pools may also apply to the NCPG for Family Exclusion Orders that will exclude individuals from these gambling activities, in addition to casinos. The NCPG will also be empowered to refer such individuals to attend counselling or rehabilitation under the terms of the order.
Extension of Exclusion by Law to all Public Rental Scheme (PRS) tenants and occupiers
5. Exclusion by Law is an upstream approach to prevent problem gambling among households with financial needs and complements the Self, Family and Third-Party Exclusions and Visit Limits administered by NCPG. Currently, individuals on Government social assistance and subsidy schemes, i.e. ComCare Short-to-Medium Term and Long-Term assistance recipients, legal aid recipients, and PRS tenants with 6 or more months of rent arrears, as well as undischarged bankrupts, are prohibited from entering the casinos, fruit machine rooms in private clubs or opening a Singapore Pools online gambling account.
6. From 1 Jun 2022, Exclusion by Law will be expanded to all tenants and occupiers on the Public Rental Scheme, which provides subsidised public rental housing. This change will minimise negative effects of gambling on them and their families.
Mandatory responsible gambling requirements on fruit machine room operators
7. Private clubs operating fruit machine rooms are to strengthen their responsible gambling practices. Operators must commit to organisational responsible gambling policies and implement measures to minimise harm from gambling. From 1 November 2022, they will be required to educate patrons about responsible gambling, problem gambling and help services, and assist patrons who display signs of problem gambling.
Other social safeguards in place
8. In addition to the Exclusion and Visit Limit regime, the Government has put in place a broad suite of safeguards for gambling, such as the casino Entry Levy, minimum age requirements, and restrictions on gambling advertisements and promotion. There are also support services, such as the National Problem Gambling Helpline (1800-6-668-668) and Webchat which provides counselling and referral on gambling related services, for individuals and families who require help with gambling issues.
ANNEX A FREQUENTLY ASKED QUESTIONS
---
ANNEX A FREQUENTLY ASKED QUESTIONS
1.What are the types of Exclusions administered by the NCPG?
There are 3 types of exclusions administered by the NCPG
Self-Exclusion Voluntary application to exclude oneself from specific gambling products
Family Exclusion The NCPG can exclude a person whose gambling behaviour has caused serious harm to his/her family, upon application by a family member
Third-Party Exclusion Applicable to individuals who visit the casinos frequently, and are assessed to (i) have a poor credit record or (ii) fall into financial difficulties due to his/her gambling
2. Does the Exclusion by Law apply to all HDB rental households?
The Exclusion by Law applies only to tenants and occupiers on the HDB Public Rental Scheme. Individuals on the Parenthood Provisional Housing Scheme and/or the Interim Rental Housing (IRH) scheme will not be excluded by law.
3. How long would the Exclusion by Law for public rental housing tenants and occupiers be in force?
The Exclusion by Law will remain in force until the individual is no longer a tenant or occupier of a flat under the HDB Public Rental Scheme.
4. What gambling products will an individual be excluded from under the Exclusion by Law?
Individuals under Exclusion by Law will be barred from entering and gambling at the casinos at the two local Integrated Resorts, fruit machine rooms in private clubs and from opening and engaging in online gambling with a Singapore Pools online gambling account. Gambling at Singapore Pools retail outlets is not covered.
5. How will the affected persons be notified?
All public rental households will be notified by post.
6. What happens if a public rental housing tenant or occupier needs to enter the casino for work?
From 15 April 2022, tenants or occupiers on the Public Rental Scheme can inform and submit the relevant supporting documents to NCPG via the Exclusion by Law form. NCPG will verify the information before making the necessary arrangements for them to enter the casinos for work within 5 working days.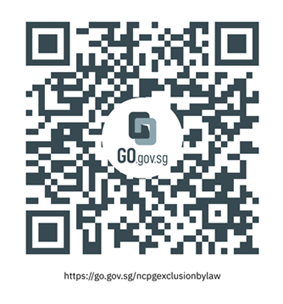 7. What are the help services available for individuals and families affected by problem gambling?
Those who wish to seek help may
Call the National Problem Gambling Helpline
Tel 1800-6-668-668
Use the WebChat service
Visit the NCPG Appointed Agency
The Resilienz Clinic
Address 10 Sinaran Drive #10-03 Novena Medical Center S(307506)
Tel 6397 7300
For more information on help services available, please visit the NCPG website
8. What other efforts are in place to protect individuals who gamble?
To better protect those who gamble, MSF works with gambling operators to strengthen responsible gambling measures. These are some of the latest efforts
Casinos' Informed Play System
MSF worked with the casinos to develop this voluntary tool to provide casino patrons with information to manage their time and expenditure on gambling.
The aim of the informed play system is to provide patrons sufficient information to promote better control of gambling behaviour. Technology can be employed to provide personalised information to each patron and prompt him/her to make better decisions on gambling.
Patrons can set how long and/or how much they want to play on Electronic Gaming Machines and will receive SMS notifications at selected intervals based on the pre-set duration and/or the amount spent.
Singapore Pools Online Gambling
The objectives of Singapore Pools' responsible gambling measures are to inform gamblers on their betting behaviour, help individuals to better self-regulate gambling behaviours and to keep their betting activities within limits set.

Safer Play Webpage

. The webpage contains responsible gambling tips and information, self-assessment survey and the National Addictions Management Service (NAMS) financial calculator.

Betting Behaviour Self-Assessment

. Individuals can take a self-assessment to understand their gambling behaviour and a betting risk profile will be generated based on their responses.

Gaming Profile

. A gaming profile will be generated for each Singapore Pools Account holder based on their risk level.
---