Self Determination or Child Safety?
How far should one be allowed to make his/ her own decisions?
Brief Case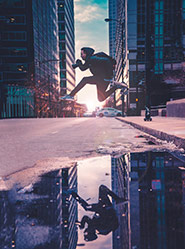 Mdm Tan (aged 30), who has 4 children, suffers from spousal violence. She had contemplated divorce but never did. As a result of the spousal violence, Mdm Tan became depressed and had attempted suicide several times since last year. She also told her children she wanted to die with them as she did not want to leave them behind. Serene, 9, her eldest child, shared this in confidence with her Full Time School Counsellor (FTSC). Mdm Tan was referred to the Child Protection Service (CPS).
Following Mdm Tan's discharge, the children were returned to her care at the family's request. CPS shared with Mdm Tan their concerns and explored safety plans for the children. Mdm Tan proposed that she move out of the house with the children as she had already made up her mind to divorce Mr Lim, a drug abuser. She also agreed to continue with treatment for her depression.
Three months after the children's return, Serene shared with FTSC more information and pleaded with FTSC not to tell her Child Protection Officer (CPO) or her mother what she had shared. This is because the latter had warned her that if CPO will place her and her siblings in foster care again if they are aware of the information.
FTSC shared the information with CPO in confidence after she explained to Serene that she had to inform CPO so that they can get help for Mdm Tan. When CPO spoke with Mdm Tan about her bringing the children to meet Mr Lim, she denied. She demanded to know the source of CPO's information and alleged that someone is "making up story to destroy my family". She accused CPO of not trusting her and being concerned only for the children. She also demanded that CPO close her case and leave her family alone as they had been doing fine the past 3 months.
* names changed to protect identity
Responses by social workers:
❝
I think that professionals in this field has to abide by a duty of care to clients, all the more in this case when it was observed they could be classified as vulnerable members (children, person with mental conditions). In my view, there was no breach of confidentiality between FTSC and Serene since FTSC had shared rationale with Serene. For the CPO, children's welfare would always be the priority, although in this case it was clear that the caregiver (Mdm Tan) probably needed more assistance and support. Serene's sharing, though not established, suggested activities of high risks (exposure to drug usage, family violence). Based on her sharing, it was also clear that the caregiver is not a protective figure. In such situations, the need to protect outweighs the need to preserve therapeutic relationship with caregiver (control objectives become evident).
On the other hand, a key concern would also be caregiver's high suicide risk as well as her threat of dying with children. It would be worthwhile to establish how she responded when children were removed from her care previously, e.g. what helped her to go through that process and how did she make sense of it?
At this point in time, it was reported that children do not adapt well to foster care and the eldest (Serene) also demonstrated help-seeking behaviours (approaching FTSC for help). Protection of children is key, but stability to home environment is also essential. Perhaps removal is not necessary for the time being, but about working closer with caregiver on control objectives and also exploring the introduction of more protective factors in the system to support the children. Depending on whether caregiver is compliant to medication (hence ability to process thoughts), CPO can engage her in a child-focused dialogue with the aim of surfacing her protective instinct as a mother (shown in her own perception of dying with children).
​Andy Lam
Centre Manager
Whispering Hearts FSC
❝
Ethical Consideration:
Confidentiality VS Protection of life
The FTSC had explained to Serene the need to breach confidentiality as Serene's life was at risk. Likewise, the CPO needs to talk to Serene and explain why she needed to breach confidentiality (to protect her life) and assure Serene that no names had been mentioned. By doing so, it will promote a positive working relationship with adults for Serene and also help her build her self-confidence.
Protection of Life VS Autonomy and freedom
As Mdm Tan and her children have been victims or had watched abusive behaviours, it is important to note that their lives may be in danger. Despite Mdm Tan's request to close the case, CPS should not close the case because the lives of Mdm Tan and her children are still at stake. Instead, CPS can provide Mdm Tan suggestions (mentioned below) on how the case can be closed.
What CPO can do:
To practice with integrity, CPO first needs to be honest with Mdm Tan and inform her that the case cannot be closed. CPO can mention (to respect client self-determination) that should Mdm Tan want to close the case as soon as possible, she would have to work with an FSC on her social-emotional issues. CPO needs to mention to Mdm Tan that with the FSC working with Mdm Tan, the CPO would be in less contact with Mdm Tan and would get updates from the FSC instead. CPO needs to inform Mdm Tan that the FSC Social Worker would work with Mdm Tan to address the issues and determine their goals together. As a CPO I would inform Mdm Tan that achieving these goals would be a better indication of the possibility of closing Mdm Tan's case. This would help her know what she needs to do to close her case.
Should Mdm Tan agree to work with the FSC, I would obtain her informed consent and make a referral to the FSC of Mdm Tan's choice. In the referral, I would state my assessment of Mdm Tan and recommend some areas the FSC caseworker may want to work on. As a CPO, I would also request the FSC to provide an update of how Mdm Tan is coping every time the case worker has a session.
Concurrently, knowing that the children had been abused and neglected and that they did not cope well in foster care, I would refer the children to a child counsellor (CC) or psychologist to address the emotional and psychological impact of being child abuse and neglect victims. This way, with a professional working with the children, as the CPO I ensure that in areas where I am not professionally competent, someone who is trained in the area is able to address the needs of the children. Needs of children should not be ignored as they are part of the family system and have the right to meeting their needs as well.
Once the FSC, CC and FTSC are involved in the case, I would call for an interagency case conference to iron out the duties of each member of the interagency team. This way all the members are on the same page as to their roles and the needs of the family. It also allows members to give suggestions on areas that each member can work on. Moreover, a collaborative partnership (e.g. CC and FSC can work together to have a combined child-parent session) can be discussed for future sessions
Mdm Tan's case can be closed after all members of the interagency team agree to close the case as and when they feel that the family is ready to work without caseworkers.
​Hilyah
Social Work Assistant
Viriya Family Service Centre
Commentary
By Ms Lim Puay Li, Senior Manager, Child Protection Service, Ministry of Social and Family Development.
As the CPO assigned to this case, here are some questions that I could consider in relation to the ethical scenario above:
How should I use the information shared with me in confidence by the FTSC?
Should I reveal that the information came from Serene in the course of a counselling session?
What are the consequences and risks of this disclosure for Serene? Would it affect her ability to trust professionals in the future? Should 9-year-old Serene be placed in this position?
Should I report Mr Tan's suspected drug use to the relevant authority for further investigation? Do I have an obligation to protect Mdm Tan given that she is the mother of my clients? How will reporting this affect the counsellor-client relationship with Mdm Tan and the children?
Given that there is no imminent harm or history of harm to the children, shouldn't Mdm Tan be entitled to her right to self-determination and be trusted to ensure that she would not compromise their safety and welfare despite her poor choices of staying on with Mr Lim?
Could the disruption caused by foster placement possibly be greater than the consequences of them remaining with Mdm Tan and being exposed to her father's drug use and to the domestic violence, given that the children did not cope well with it the previous time?
Child protection cases, such as that of "Serene", can arouse strong emotions and controversies and create ethical tensions for CPO, who has to decide on what is the "right thing" to do taking into consideration the best interest of the children concerned.
Finding a Solution
Ethical dilemmas can occur when a social worker is faced with having to choose between two equally unwelcome alternatives which may involve a conflict of ethical values, and it is not clear which choice will be the right one.
So, what are the "right" answers and "solutions" to this ethical dilemma for this case? Resolving the dilemma would require me to have a firm understanding of the standards of practice that constitute sound practice behaviour, have a working familiarity and understanding of the principles in the SASW Code of Ethics, make use of peer/supervisory consultation, understand applicable agency policies and legal mandates, and be open to examining the ways in which one' own values/preferences influence the ultimate choice of action.
One begins to address the ethical dilemma by identifying those professional values or obligations that conflict with each other and clarifying the issues of conflict at hand. One of the tensions in Serene's case involves the protection of confidential information shared by Serene (see SASW Code of Ethics, Part A, No. 2e & f) as opposed to the disclosure of confidential information contrary to Serene's wishes. Secondly, can I justify setting limits on Mdm Tan's right to self-determine based on the belief that her relationship with Mr Lim is harmful to her children's well-being, given that there have been no observable impact thus far? Is there an obligation to limit Mdm Tan's right to self-determine in order to protect third parties from harm (see SASW Code of Ethics, Part A, No.6)?
The Right Decision?
The goal of sound ethical reasoning is thus not so much to find a "right" solution but rather to rationally and systematically consider the ethical aspects of a case and to be clear about the basis on which the decision was made. This involves a process whereby we consciously articulate the reasoning behind our choice of action. Social Workers must be able to explain and justify that the decision they reached would protect the client' rights and serve the client' best interests as well as uphold the values and standards of the Social Work profession.
As social workers, we are in close agreement about upholding standards related to client confidentiality, fostering self-determination, promoting the dignity and worth of the client, and acting in a trustworthy manner with clients. However, there is less agreement about how to translate these into practice, particularly when one of these commitments can be served only at the expense of another.
In making decisions surrounding child protection cases, safety of children are of paramount importance. However, this is also to be balanced by consideration to children's wishes to be with their attachment figures [1]. For the case of Serene, the children were assessed to share good attachment with Mdm Tan. In addition, information gathered thus far did not suggest imminent risk to the children. However, the children's safety needs remain a concern given Mdm Tan's history of exposing them to her suicide attempts and her thoughts of killing the children when she was stressed out by her marital issues. The ongoing exposure of the children to spousal violence is also likely to impact on their emotional and psychological well-being.
In view of the above, there is no immediate need for the children to be removed from Mdm Tan's care. However, intensive work needs to be done to help Mdm Tan gain insight into where my concern is stemming from and to empower and increase her ability to act in the best interest of her children. This care arrangement would need to be closely monitored and ongoing assessment be conducted to determine if Serene and her siblings' safety and other care needs are being adequately met by Mdm Tan. A removal might need to be considered should there be an escalation of risk or concerns surrounding their well-being.
[1] Bowlby's Theory of Attachment states that an infant needs to develop a relationship with at least one primary caregiver for the child's successful emotional development.