A New Better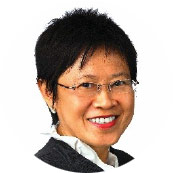 Ms Ang Bee Lian, 1 December 2020
Dear Social Service Practitioners,
The "New Normal" is a term that has been used so often to describe the times we live in now. The pandemic has brought about tremendous challenges across many fronts, especially the economic and social fronts, on a local and global scale. However, we cannot deny that it has provided a world of opportunities and impetus for massive change, adaptation and innovation. We can thus view the "New Normal" as the "New Better" – where we welcome positive changes and gains that the pandemic has brought about.
The "New Better"
One key benefit that COVID-19 has brought about, which could not be achieved previously, is that it has trained us to be more technologically-savvy. People who normally stay away from technology have now come to embrace technology to survive and have even thrived on it. For instance, during the circuit breaker period, when going outdoors was largely restricted, we had to depend heavily on technology to stay connected with our loved ones and colleagues. Even seniors, who tend to be more hesitant with technology, were driven to start using mobile applications and telecommunication to cope with the new reality.
We have also adjusted to a different way of working - a way that is potentially more efficient, convenient, and prompts us to be more conscious of how we convene our meetings. In the social service sector, the idea of communicating with clients virtually using video conferencing platforms and WhatsApp has since been normalised. The Courts are no exception to this as well, with the State Courts and Family Justice Courts using online video conferencing for court hearings and sessions (Lam, 2020; Vijayan, 2020).
The Art of Pivoting
The pandemic has significantly disrupted the local and global economy and has severely affected businesses and job markets across many sectors. While these challenges paint a seemingly grim future, we must learn to pivot accordingly, instead of dwelling on the challenges that the pandemic has posed. Pivoting involves some form of modification or shift, which may be necessary to adapt to a new situation - just like how some businesses have learnt to heighten their online presence and use their virtual platform as their main method of sales during this pandemic (Guan & Chan, 2020).
At the social service agency level, we learned to pivot by changing the way we keep track of vulnerable clients as we ensured their safety through virtual platforms instead of face-to-face meetings. We worked with one another, even across agencies, to adapt and collaborate with the same goal in mind – to keep our clients safe.
During the circuit breaker and the period after, some agencies have tapped on food and meal delivery operators to make essential deliveries to clients. These delivery networks have a wide reach, especially to vulnerable groups. This is one potential channel of obtaining feedback on the well-being of vulnerable clients whilst ensuring that client confidentiality is protected. Partnering with delivery networks who do regular delivery to corroborate important information on vulnerable clients would also complement our current check-in efforts with clients. This holistic gathering of information on the safety and well-being of clients is an idea that should be embedded in practice.
For families facing high levels of emotional and economic stress, which may adversely impact CYPs in the future, CPS may refer the families to Family Service Centres (FSCs) and other social service agencies. Examples of such cases will include families who need caregiving support, financial assistance or counselling to better cope with stressors and provide adequate care for CYPs.
Like other industries who are changing their ways of doing things, it is time for us to adopt a "New Better" mentality in seeking fresh and enhanced ways of delivering services during this rough time.
Don't Forget to Self-care
During this pandemic, it is crucial for every individual to be familiar with the idea of self-care, conscientiously practise it and encourage those around us to do so as well. As practitioners, we may be familiar with this idea as we often preach it to our clients, but we must remember to practise it too. We need to understand that all humans need to rest and recharge and that we each have different ways of doing so. With the pandemic, it has become even more important for us to practise self-care to pull through this long and tough marathon.
Particularly relevant is the Japanese concept of ichigo ichie (一期一会), which translates to "one moment, one meeting" and can be further interpreted to mean "once in a lifetime". It calls us to cherish every moment of our lives as these moments cannot be repeated (García & Miralles, 2019). As social service professionals, this is a good reminder not to overwhelm ourselves by constantly putting the demands of our clients over our self-care. We need to balance taking care of ourselves and caring for our clients so that we can go the distance in social service.
Working Together to Turn Crises into Opportunities
With a "New Better" mindset, let us move forward together and build a different and better future as we actively seek to learn to overcome the challenges brought about by the pandemic. New obstacles will continue to surface. Each of us has the power to determine how we face them – do we stay defeated, or do we stand our ground and turn these challenges into opportunities?
Let us adopt the "New Better" mindset in facing the pandemic - learn to find and value opportunities that arise out of challenges, and constantly seek better ways to help those affected by this crisis. Together, we can pull through to create a better future, and a stronger Singapore.
---

MS ANG BEE LIAN

Director-General of Social Welfare
Ministry of Social and Family Development

---