Tuning in to the Leaders Session 5: Ms Long Chey May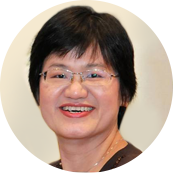 Ms Long Chey May, 8 Sept 2014
About the Speaker
Ms Long is a well-known "STARS" social worker who has almost 30 years of social work experience. She started her social work career as a counsellor with the Singapore Armed Forces before switching to medical social work. She progressed in her career holding portfolios such as Chief of Operations and Professional Development, Senior Principal Medical Social Worker and Head of Medical Social Services of Singapore General Hospital from 1992 to 2009. She now serves as the Senior Assistant Director for Allied Health with a portfolio in care integration in Jurong Health Services.
Advice to Social Workers
Ms Long shares the importance of finding meaning in work, the qualities that one should possess as a social worker and her thoughts on evidence-based practice.
Thoughts on supervision
Ms Long shares that supervisees and supervisors should take in the course of receiving and giving supervision.
Working in the different settings of Social Work
Ms Long shares why she chose the healthcare setting to practice social work and her advice to social workers who are deciding which setting to choose.
---

Ms Long Chey May

Senior Assistant Director
Allied Health

---