Tuning in to the Leaders Session 10: Dr Sudha Nair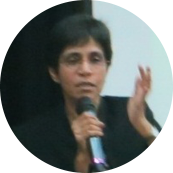 Dr Sudha Nair, 17 Apr 2015
About the Speaker
Dr Sudha Nair started off her social work journey in 1986 at Ang Mo Kio FSC and currently serves as the Executive Director of PAVE, the first family violence specialist agency. She has a deep interest in issues related to the welfare of women and children and is fondly known as the "Jane Addams of Singapore". In her journey as a social worker, she has had significant positive impact on many social services and public policies. Dr Nair was recently appointed to the Public Service Commission, a body that plays an important role in the Singapore Public Service. Her experience gives her both the breadth and depth in understanding issues which enable her to tease out the leadership qualities of potential leaders. Her contributions to the social service sector won her the Outstanding Social Worker Award in 1998.
Advice to Social Workers
Dr Nair advices Social Workers to actively give feedback and to be open to differing views in the course of their work. She gives a personal example where she stood up for what she believed in order to "create discomfort" while advocating for change.
Leadership in Social Work
Dr Nair gives her views on the important qualities that leaders in the Social Work profession should possess.
Lessons Learnt as a Social Worker
Dr Nair shares the importance of making "hard" decisions while working with clients in order to increase their level of social functioning. She also explains why passion alone is not enough in the Social Work profession.
---

Dr Sudha Nair

Executive Director
PAVE

---