Tuning in to The Leaders Series Session 20: Ms Ho Lai Peng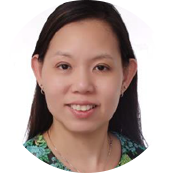 Ms Ho Lai Peng, 28 Feb 2017
About the Speaker
Ms Ho Lai Peng graduated with a Bachelor of Arts (Social Work) from NUS and a Master of Social Work from Washington University, St Louis. She has been a social worker since 1991 and has spent the past 25 years with Tan Tock Seng Hospital. She currently serves as a Principal Medical Social Worker in the Care & Counselling Department.

During her time as a social worker, Ms Ho has contributed greatly to the field through serving in various committees such as the National HIV Policy Review Committee working group, the Research Steering Committee, Institute of Infectious Diseases and Epidemiology and the Family Resource & Education Centre Committee. Her clinical interests include infectious diseases (HIV) as well as issues of grief and bereavement.

Her commitment and passion as a social worker won her the Outstanding Social Worker Award in 2005. In addition, her invaluable contributions to the field also won her the Healthcare Humanity Award, the National Day Commendation Medal, the AHS Outstanding Clinical Educator Award and the NHG Teaching Award for Allied Health Senior Educators.

How she feels about her work can be summed up in one sentence:
"Far and away the best prize that life has to offer is the chance to work hard at work worth doing." - Theodore Roosevelt
Advice to Social Workers
Ms Ho Lai Peng shares the importance of being competent as a social worker. She also elaborates on the place of passion in what social workers do.
Advocacy
Ms Ho Lai Peng shares what it means to fight for one's calling in the midst of opposition and to take calculated risks in the work of advocacy.
Persevering as a Social Worker
Ms Ho Lai Peng shares how her patients and friends are her inspiration to continue on in social work.
---

Ms Ho Lai Peng

Principal Medical Social Worker
Tan Tock Seng Hospital

---