When completing your LPA, the LPA Form will have to be witnessed and certified by an LPA certificate issuer. Any one of the following professionals in Singapore can be the certificate issuer for your LPA:
A) a medical practitioner accredited by the Public Guardian;
B) a practising lawyer*; or
C) a registered psychiatrist

Note: This refers to a solicitor with a Singapore Practicing Certificate.
Click here to search for a Certificate Issuer in the OPG Online (OPGO) system.
Important Role of the LPA Certificate Issuer
The LPA certificate issuer signs on the LPA Form as a witness for the Donor, to certify that the Donor has the mental capacity to make an LPA - he understands the purpose of the LPA and the scope of authority granted to Donees.
The LPA certificate issuer also ensures that there is no fraud or undue influence used to induce the Donor to make the LPA.
In order to prevent a conflict of interest, a person is disqualified from giving an LPA Certificate if that person is -
a) A family member of the Donor;
b) A Donee* of that power;
c) A Donee* of any other lasting power of attorney which has been executed by the Donor (whether or not it has been revoked);
d) A family member of a Donee* within sub-paragraphs (b) and (c);
e) A director or an employee of a person other than an individual acting as a Donee* within sub-paragraphs (b) and (c);
f) A business partner or an employee of -
i. The Donor; or
ii. A Donee* within sub-paragraphs (b) and (c);
g) An owner, a director, a manager or an employee of any care facility where the Donor lives or is cared for when the instrument is executed; or
h) A family member of a person within sub-paragraph (g).
*"Donee" includes a "Replacement Donee".
List of 10 Most Visited Certificate Issuers and Range of Fees Charged
Click here for the 10 Most Visited Certificate Issuers based on the LPA applications the OPG received (updated: 25 Jan 2023).
The fees charged depends on the complexity of the case. The OPG does not prescribe the fees charged. Members of the public are advised to check with the individual Certificate Issuer on his professional charges.
As at Jan 2023, the fees range of the 10 most visited Certificate Issuers across the three groups of professionals for LPA Form 1 certification are as follows:
| | |
| --- | --- |
| ​Accredited doctors | $25 to $59 |
| Lawyers | $80 to $300 |
| ​Psychiatrists | $265 to $450 |

Disclaimer: The list of 10 most visited CIs is updated every half yearly, based on the number of LPA certificates each CI issued in the past 6 months. Donors may wish to refer to the list, and the fee range in deciding on a CI to engage for their LPA certification. The list and fees are neither exhaustive nor an endorsement of their professional services. You should do your checks in selecting a suitable CI, OPG does not assume any responsibility or liability for the services provided by any CI. Refer here to find a CI near you.
Organisations who offer pro bono / means-tested LPA Certificate Issuing Services
Individuals with financial needs may approach the following organisations to certify their LPA:
Interested applicants are advised to call their preferred not-for-profit organisations to make an appointment.
Upcoming LPA​​ Certificate Issuing events
Interested applicant​s have to contact the respective organisations to make an appointment.
​1. Lawyers@M3 <Non-chargeable>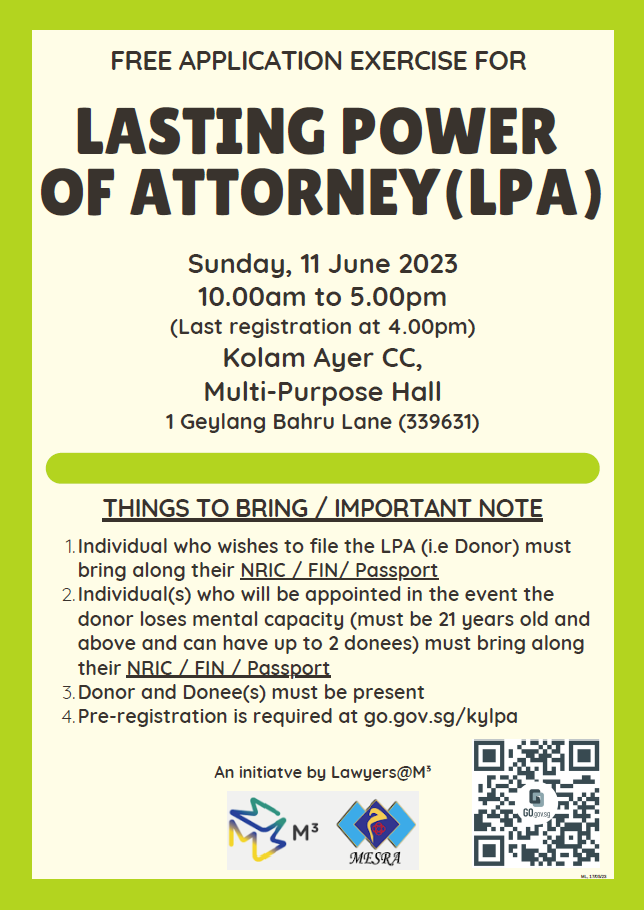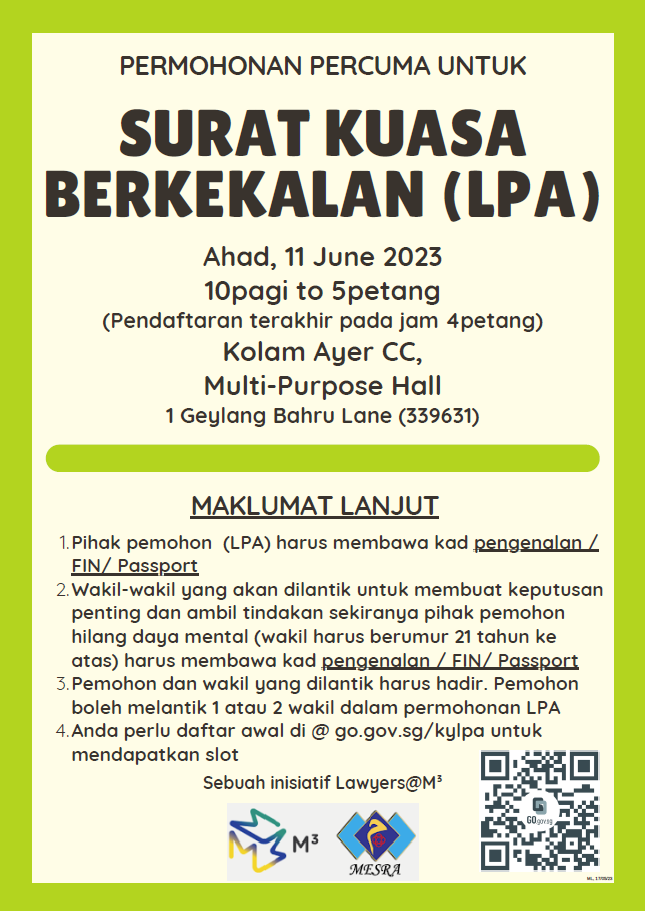 2. Life Point (Society of Sheng Hong Welfare Services) <Chargeable>
Interested applicants will have to attend the LPA talk before they can sign up for LPA certification services.​